As southern California grapples with the latest fires to hit the state in this most difficult of years, Patsy McGaughy, head of communications at Napa Valley Vintners, explains the full impact of the autumn fires that swept down the valley and into Sonoma and Mendocino and how support from both within the US and the rest of the world is helping the region put the fires behind it.
The images and videos of the ferocity of the fires that hit Napa Valley in October shocked the watching world, but despite the fears and anxiety at the time the region is working hard to put the fires behind them, says Patsy McGaughy, head of communications at Napa Valley Vintners, 
They say you only really get to know who your friends are in times of adversity and that has certainly been the case for the wine producers, companies, workers and families caught up in the devastating fires that hit northern California in mid October.
A few weeks on and whilst the impact of the fires will be felt in the worst affected areas of the state for some time, it is also a time for California's wine community to literally brush itself down and push on forward.
Which is what McGaughy was very much doing in London this week as part of a whistle stop tour to see important European customers and influencers.
She was in both a reflective and bullish mood. The threat and reality of fire is something everyone in the wine communities of California are only too aware of, she said. But nothing could have prepared the state for the scale and damage that the recent fires have caused.
"It was very scary," said McGaughy as she recalled the anxious days when fires swept through and around communities, eventually destroying thousands of homes.
"Everyone knows someone who has lost their home," she said. "A third of our Napa Valley Vintners team were evacuated."
Over the worst… 
But amazingly considering the ferocity of the fire the majority of the vineyards and wine growing areas of Napa have survived relatively unscathed. Yes, there has been some damage, particularly in more northern areas of the valley, but these are more isolated and in specific locations rather than effecting large areas of the land.
McGaughy explained how Napa county covers some 504,000 acres, of which 70,000, less than 15% suffered some level of fire damage.
In terms of vineyard acreage around 8% or 3,500 acres of the region's total 45,000 of vines were what she termed "touched by fire". This covers those wineries that suffered extensive damage, to those that saw out buildings hit, to those that had fire come up to the edge of vineyard plots.
"It certainly seemed at some moments the damage was going to be far worse than it actually was," said McGaughy. "The first day in particular was very worrying. But as time wore on it became clear that the damage was very sporadic and unpredictable. Some people have been in areas where their home has been OK, but their neighbours have lost their house completely."
Of its 530 members it was able to get detailed information from 375, of which 50 had seen some level of damage to their property. But again this stretches from five that had "significant damage" through to those that had only seen partial damage to land or parcels of vines.
"Thankfully no-one lost everything in terms of vines, cellars, tasting rooms and storage," she added.
Clearly areas of Sonoma and Mendocino and California have been less fortunate, but McGaughy is keen to point out that the state as a whole, although shocked and shaken by events, is getting back to business.
"We're all open for business and want people to come and visit. It's still a beautiful area. Yes, it is going to be a challenge for the industry as a whole, but we are all moving in the right direction."
Size of harvest
It is too early to say, she said, what the final impact will be on the total Californian crush – those figures are expected in the first quarter of 2018. But before the fires struck the harvest was already expected to be around 10% down on average.
The big question lies over how much smoke damage there was to grapes still waiting to be picked. For although the vast majority of grapes had been picked before the fires struck there was still a sizeable quantity of red grapes still on the vine, particularly Cabernet grapes.
That is very much the unknown, concedes McGaughy, who added it was as much a scientific assessment of the grapes as it is a winemaking decision on whether they can be used in the 2017 harvest.
"We are not sure, as yet, what the long term effect is going to be on volume and tonnage. But no producer is going to put wine out there that is not 100% the best quality.
"But every year has its own unique circumstances in terms of vintage, and we will get through this," she stressed.
All together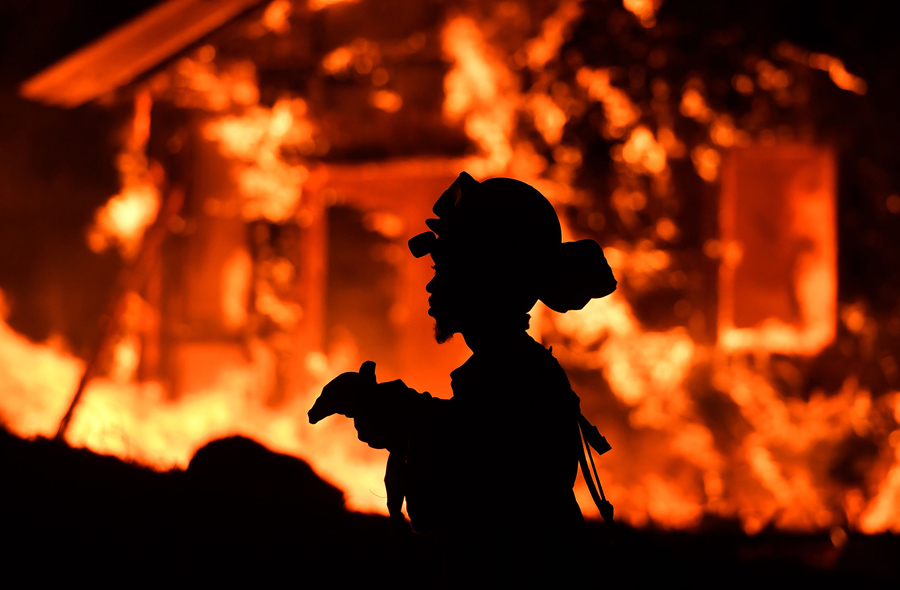 What the fires did succeed in doing is bring the Napa and Californian communities closer together.
It has also resulted in what McGaughy calls an "incredible and overwhelming" level of support from the rest of the United States and the global wine industry.
Both in terms of straight financial donations to directly help affected businesses and families and through the loan of equipment and other services to help wineries through the harvest.
"We have had wineries across California and the US offering to send in workers to help pick grapes and work in the cellars, or provide equipment, or offered to vinify producers' grapes for them."
"From a personal point of view it has really brought everyone together. I have heard from friends I have not seen for 10 years. It's hard to explain how that makes you feel."
But it also shows how vulnerable the world's wine regions can be, added McGaughy, "be it frosts in Europe, earthquakes in South America, or fires in Spain and Portugal".
"People understand. They can empathise with what we are going through."
The Napa Valley Community Disaster Relief Fund is now in a position to be able to help those caught up in the fire, be it directly or indirectly in terms of not being able to work. To date over 7,000 people have been helped.
"The fires were a double whammy to Napa as they came both in the middle of the wine harvest, but also at the most busiest time of the year in terms of visitors and hospitality," explained McGaughy.
Onwards and upwards
McGaughy was in London to attend important tastings and events and get across the message that it is business as usual. Particularly so in London and the UK which has been such an important market for California and Napa in particular.
"California is still our number one export market, but we also have avery big focus on the UK, Japan and increasingly Hong Kong," she explained.
China, although important, remains a difficult "nut to crack" as it is so hard to see where your wines are being sold.
"Our approach there is more around education and as people get to understand wine more it is important for us that they know about California and Napa as well."
Its export drive has been helped enormously by a string of top quality and now very much in demand vintages stretching back to 2012. "It has been a fantastic time for California and has got people talking naturally about what is going on there."
The challenge remains, however, for buyers to "set aside their pre-conceptions that California is all about expensive wines. "Napa wines can compete with the best Bordeaux and Burgundy, but also has great quality at quite a bit less. We need to get more buyers to taste our wines and understand them," she said. "We have got something for everyone."
* If you would like to donate or find out more about what steps you can take to support the relief efforts then go to https://www.napavalleycf.org/fire-donation-page/